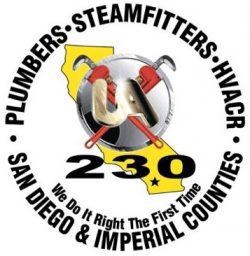 The United Association of Plumbers, Steamfitters, Refrigeration & HVAC Service Technicians Local Union 230 is proud to be the oldest, continuously operating craft union in San Diego — and we are still going strong!
United Association Local Union 230 offers a wide range of technical skills that are valued throughout the construction industry. Our members are the piping professionals that provide the San Diego Community with the complex piping systems that are responsible for potable water, sanitary systems, medical gas, heating, cooling, and purity piping for the pharmaceutical and micro-electronic industries along with an array of other services that help make San Diego America's Finest City.
Apprenticeship Information: https://www.ualocal230.org/membership/
---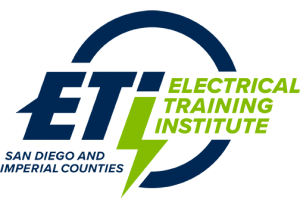 At ETI, we provide a qualified, highly skilled work force for the unionized electrical and sound telecommunication industries in the San Diego and Imperial counties of California.
Supported through a collective bargaining agreement with the International Brotherhood of Electrical Workers Local 569 (IBEW Local 569) and the San Diego Chapter of the National Electrical Contractors Association (NECA), apprenticeships are made available to qualified applicants and advanced training for all beneficiaries of the Training Trust (SDETT).
We are actively committed to supporting education in the San Diego and Imperial counties by continually upgrading and refining the quality of instruction, incorporating new technologies in the curriculum and building community awareness of the excellent programs offered. These programs enable the San Diego Electrical and Sound Telecommunications contractors to diversify and compete in new markets that help ensure growth in the industry.
Apprenticeship Information: https://etiedusandiego.org/career-opportunities/
---

Solar Turbines Incorporated, headquartered in San Diego, California, is a wholly owned subsidiary of Caterpillar Inc. Solar manufactures the world's most widely used family of mid-sized industrial gas turbines, ranging from 1 to 23 megawatts. More than 15,000 Solar units are operating in more than 100 countries with more than 2.8 billion operating hours. Solar is a leading provider of energy solutions, featuring an extensive line of gas turbine-powered compressor sets, mechanical drive packages, and generator sets.
Solar's customers put the company's products to work in many areas, including production, processing and pipeline transmission of natural gas and crude oil, and generation of electricity and thermal energy for processing applications, such as manufacturing chemicals, pharmaceuticals, and food products.
Solar's foundation is people and Solar's culture is one where individual contributions are valued, diversity in the workplace is encouraged, and safety is emphasized in all aspects of the business. Solar Turbines is comprised of a dedicated and multi-talented workforce of more than 8,000 employees with decades of experience working as a global team.
Apprenticeship Information: https://www.solarturbines.com/en_US/careers.html