Our people are committed Federal Employees who are highly skilled and trained. Our professional workforce is second to none in keeping both Americans and those who visit us safe and secure as they travel throughout the country. TSA is looking for dedicated individuals to join our team to help us accomplish our mission and those who are interested in:
Stability of a Government Job
Ensuring National Security
Helping People
Competitive Pay and Benefits
Career Growth Opportunities
Diverse Workforce
Fast-paced Job
Choose the Right Career at TSA The following information is a quick overview of the various career areas within TSA. Airport Security: TSA provides airport security for more than 450 airports across the U.S. and territories. You can work behind the scenes, with travelers, or with one of our security partners in a variety of positions. View the video on the left for a realistic preview of these positions. Law Enforcement: TSA's law enforcement area is largely unseen and unheard in their tireless efforts to secure the homeland. Become a part of an exceptional organization of qualified and motivated individuals with diverse backgrounds. Management/Professional: Other career opportunities at TSA include an entire network of management, administrative and professional positions. These dedicated individuals are the backbone of the day-to-day operations at TSA.
| | |
| --- | --- |
| Main Phone: | |
| Main Fax: | |
| Main E-mail: | |
| Job Phone: | |
| Job Fax: | |
| Job E-mail: | |
| Number of Employees: | 300+ |
| Employer Address: | United States |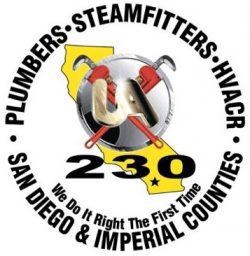 The United Association of Plumbers, Steamfitters, Refrigeration & HVAC Service Technicians Local Union 230 is proud to be the oldest, continuously operating craft union in San Diego — and we are still going strong!
United Association Local Union 230 offers a wide range of technical skills that are valued throughout the construction industry. Our members are the piping professionals that provide the San Diego Community with the complex piping systems that are responsible for potable water, sanitary systems, medical gas, heating, cooling, and purity piping for the pharmaceutical and micro-electronic industries along with an array of other services that help make San Diego America's Finest City.
Main Phone:
858-554-0586
Main Fax:
Main E-mail:
Job Phone:
Job Fax:
Job E-mail:
Number of Employees:
Employer Address:
6313 Nancy Ridge Drive
San Diego, California 92121

Caltrans manages more than 50,000 miles of California's highway and freeway lanes, provides inter-city rail services, permits more than 400 public-use airports and special-use hospital heliports, and works with local agencies. Caltrans carries out its mission with six primary programs: Aeronautics, Highway Transportation, Mass Transportation, Transportation Planning, Administration and the Equipment Service Center.  Caltrans 2020-2024 Strategic Plan (PDF)
| | |
| --- | --- |
| Main Phone: | (619) 688-6699 |
| Main Fax: | |
| Main E-mail: | ct.public.information.d11@dot.ca.gov |
| Job Phone: | (866) 844-8671 |
| Job Fax: | |
| Job E-mail: | CalCareer@calhr.ca.gov |
| Website | How to Apply at Caltrans |
| Employer Address: | 4050 Taylor Street San Diego, CA 92110 |