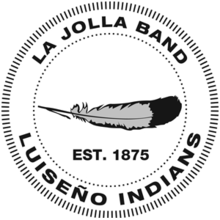 La Jolla Band of Luiseño Indians
The La Jolla Indian Reservation was est. in 1875, over 130 years ago by executive order of President Ulysses S. Grant. However, we have existed here for thousands of years. This reservation consists of 9,998 acres of Federal Land and around 700 enrolled Tribal Members. Much of the land is undisturbed and is located at the foothills of Palomar Mountain, a semi-wilderness area with the San Luis Rey River running through it.
The majority of the landscape consists of oak trees, abundant wild flowers, sage and other indigenous plants. The oak trees produced one of our major foods that help sustain our way of life. One of our dishes made from the acorn is called wiiwish. Among others found at La Jolla are roots, berries, seeds, small and large game, such as rabbit, deer and wood rats. Please help in the care and respect of our Reservation.
Currently, the La Jolla Indian Reservation is a federal reservation of Luiseño Indians in Northern San Diego County, along the southern slopes of Mount Palomar. Tribal Government consists of a five member Tribal Council, with a Tribal Chair, Vice Chairperson, Secretary, Treasurer, and a Council Member.
Main Phone:
(760) 742-3771
Main Fax:
(760) 742-3779
Main E-mail:
denise.mckenna@lajolla-nsn.gov
Job Phone:
(760) 742-3771 ext 306
Job Fax:
(760) 742-3779
Job E-mail:
denise.mckenna@lajolla-nsn.gov
Number of Employees:
26 – 100
Employer Address:
22000 Hwy 76
Pauma Valley, CA 92061
United States