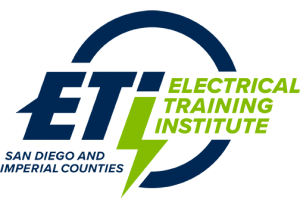 San Diego Electrical Training Institute
At ETI, we provide a qualified, highly skilled work force for the unionized electrical and sound telecommunication industries in the San Diego and Imperial counties of California.
Supported through a collective bargaining agreement with the International Brotherhood of Electrical Workers Local 569 (IBEW Local 569) and the San Diego Chapter of the National Electrical Contractors Association (NECA), apprenticeships are made available to qualified applicants and advanced training for all beneficiaries of the Training Trust (SDETT).
We are actively committed to supporting education in the San Diego and Imperial counties by continually upgrading and refining the quality of instruction, incorporating new technologies in the curriculum and building community awareness of the excellent programs offered. These programs enable the San Diego Electrical and Sound Telecommunications contractors to diversify and compete in new markets that help ensure growth in the industry.
Our Training Locations
San Diego
Located in Kearny Mesa, just north of Qualcomm Stadium, our present 32,000 square foot facility opened its doors in September 1983 and is equipped with some of the latest high-tech equipment utilized in the electrical and telecommunication fields.
All of the ETI labs are used in our apprenticeship programs to give apprentice students hands-on training with equipment used in the field. Hands-on training is an excellent way to reinforce the theory aspect of their trade learned in the classroom.
Individuals enrolled in our journeyman training classes are also exposed to training equipment in these labs. This is an excellent opportunity for these individuals to update their knowledge and skills to remain up to date with technology in an ongoing and constantly changing, high-tech industry.