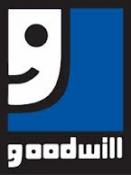 Goodwill Employment Center
Often, the first step to finding a job is understanding your skills, interests and abilities. And once you have an understanding of your strengths, you can begin thinking about the career track that's best for you. Goodwill Idustries has specialists who work with you to understand your prior experience as well as your job and career goals.
You can meet with a specialist face-to-face at a Goodwill® near you, or visit our virtual community online – GoodProspectsSM. Together, we'll design a plan to bring your dreams to life, while connecting you with other community resources, like childcare, reliable transportation, and financial planning.
Job leads
Employer Presentations
Free internet job search
Phones for job search
Help filling out job applications
Assistance with resume preparation
Tips on dressing for success
Interview preparation classes
Websites:
Find a Center Near You
Career Centers, Education & Training, Resources, Training, Workforce Education